Où sommes nous ?

Users and Machines management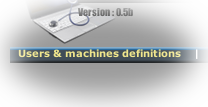 This menu is accessible when logged.
Out of the box, only one user is defined : "Admin" (password "Admin") allowing you to login on Domestik's console and to create hosts.
For obvious security reasons, it is recommended to change Admin's password.


Hosts (monitored machines) and human users share the same interface.
When you're clicking on "new user" button, a pop-up is appearing where you're invited to enter :
if it's an human user or a machine (Type)
its identifier (User name) which has to be unique
upload a custom avatar which will be resized to a maximum size of 40 x 40 pixels if needed
its password has to be entered in 2 fields in order to ensure verification
for machine only, an inactivity threshold : without data update after this period of time, the host is considered as down.
a free text comment field.
Notez-bien

If the entered name is matching an existing user, we will modify the actual user.

Only 'Machine' user can submit figures to Domestik. It is allowed to switch user's type from machine to human, but if you do so, already sent data will stay in the database.

In the main users list, button allowing you to modify or remove existing user or host.
---
Vous pouvez laissez un commentaire sur cette page.